The professional athlete identifies the problem
Former professional footballer Gazi Avakhti works as a personal trainer and has been training in the gym up to six times a week for over 20 years. During this time he has noticed an annoying problem: All athletes have a towel, a drinking vessel, a membership card, a smartphone and headphones with them, which they carry from machine to machine. Because they don't know where to put it, they hang the sweaty towel on the training device and the other things are put on the floor. "This is absolutely impractical and totally annoying," says Gazi and thinks about how to solve the problem.
Super magnet as all-rounder
Avakhti invents a shaker to solve these problems and calls it GA Shaker+®. Its unique product can be attached to any metal fitness equipment and serves as a stand for a smartphone, membership card and towel. Well hidden in the high quality product, which is produced exclusively in Germany, are strong neodymium magnets, so that it sticks to the equipment even when fully filled.
In the Pro7 show "The Thing of the Year" Gazi Avakhti was able to present his problem solver in March 2018, the audience and the prominent jury were thrilled. Afterwards there were articles in WLZ online, Lokalo 24.de, HNA, also the Stern, Focus and Bild reported about the invention. And in August 2019 Gazi will be in front of the camera again: The TV channel "Welt der Wunder" will interview the founder, who answers all questions about himself, his company and his product.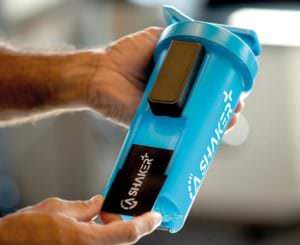 Supermagnetic.de supplied us with the necessary neodymium magnets in time before the emission of "The Thing of the Year", so we could ship all orders immediately.